Frequently Asked Questions & Services
What is Invisalign?

Invisalign is a wonderful way to straighten your teeth, without having the "metal mouth" look of braces. We make a series of custom clear removable aligner trays that gradually move your teeth into a beautiful smile.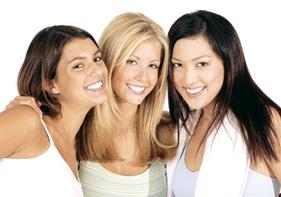 How can I whiten my teeth?
Using our in office whitening system, we can whiten your teeth in about an hour and a half. This is a safe, effective, time saving method to whiten your teeth. The whitening process is simple and painless. Whitening gel is applied to teeth and activated by a specially designed light. This is the type of whitening procedure used in the popular "makeover " TV shows.

Over the counter teeth whitening strips, brush on gels, and toothpastes take weeks or months to whiten. Because they are not professional strengths, they do not whiten much.

You may also want to use our "at home" whitening kit. A custom mouth tray, professional strength bleaching material and instructions are given to you to take home. A common treatment plan is to wear the tray for 30 minutes to two hours per day. After a few days, your teeth are whiter! What's nice about this method is that you have the trays and can do touch-ups again and again in the future.
What are porcelain veneers?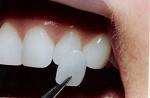 Veneers are a fantastic way to fix front teeth. You can whiten your teeth, close spaces, and create a great smile. We can even do virtually instant orthodontics to straighten crooked teeth.
| | |
| --- | --- |
| *&nbsp | Spaces between the teeth (diastemas) |
| *&nbsp | Broken or chipped teeth |
| *&nbsp | Unsightly, stained or washed out fillings |
| *&nbsp | Permanently stained or discolored teeth |
| *&nbsp | Mis-shapen or crooked teeth |
| *&nbsp | Whiten dark yellow or stained teeth |
Have you ever wished you had better looking teeth without all the hassle of braces (orthodontics) or crowns (caps)? NOW YOU CAN! Porcelain veneers are the answer for instant orthodontics to straighten smiles, close spaces, reshape, and accomplish minor realignment of your teeth. You can even have that "Hollywood" smile you've always wanted.
Veneers are very thin and are bonded on the front of your anterior teeth. The veneers are about 0.5mm in thickness but are very strong once bonded to your teeth. They have a "life like" appearance with the strength, beauty, and durability only porcelain restorations can afford. Veneers have several advantages over crowns (caps). There is no "dark line" that is sometimes seen with older front caps. They transmit light better and, therefore, have a more translucent appearance giving a natural, esthetic look. Veneers do not require the massive grinding of tooth structure that caps do, yet, they accomplish a lifelike esthetic result.
What should one do if a tooth gets knocked out of the mouth?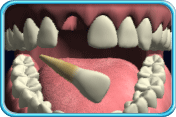 Pick up the tooth by the crown part and do not touch the root. If the tooth is dirty, gently rinse it in water. Do not use soap. If possible, place the tooth back into the socket. Go to the dentist immediately. If you cannot put the tooth back into its socket, you must keep it moist. Put it in a glass of milk or water with a pinch of salt, or put it in your mouth between your gum and cheek.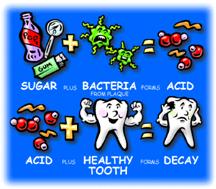 What causes tooth decay?
Tooth decay, also known as cavities, is an oral disease that affects many people. Natural bacteria, that live in your mouth and form plaque, interacts with deposits left on your teeth from sugary and starchy foods and produces acids. These acids dissolve the teeth.
My husband told me that I grind my teeth at night. My jaw also hurts in the morning. What can I do about my grinding and clenching?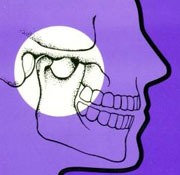 Some people refer to joint pain as TMJ. First we will need to make you a plastic mouth appliance, sometimes called a night guard, we call it a deprogramer, that's worn to absorb the force of biting. This appliance will help prevent further damage to your teeth and relax your muscles. We may also need to make you a repositioning splint designed to direct the teeth into a better bite pattern, also called a reprogramer. This will help alleviate the pain and prevent breaking your teeth.
What is a dental implant?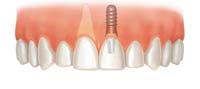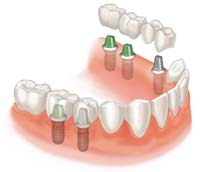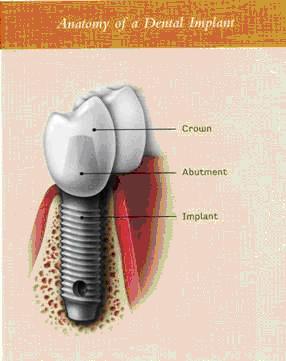 A dental implant is a small metal post that serves as a substitute for a natural tooth root. If you are missing one or more teeth in your mouth, we may recommend that you consider a dental implant to replace the root of the missing tooth, and an implant crown to rebuild your tooth in a beautiful and natural looking manner.
Dr. Gentry and Dr. Coutin are qualified to provide a wide range of services to meet the needs of their patients. Such services include:
| | | | |
| --- | --- | --- | --- |
| · | Oral Cancer Screening | · | Porcelain Crowns |
| · | Consultations | · | Porcelain Permanent Fixed Bridge |
| · | Cleanings | · | Implant Restorations |
| · | Fluoride Treatment | · | Dentures |
| · | Porcelain Veneers | · | Partial Dentures |
| · | White Fillings – no mercury | · | Nightguards |
| · | TMJ Therapy | · | Extractions |
| · | Cosmetic Dentistry | · | Root Canals |
| · | Comfortable care for Dental Phobics | · | Tooth Whitening (bleaching) |
| · | Full Mouth Restoration | | Invisalign Orthodontics |